When bride Jasmin came to us she had a very clear vision of what she wanted her dream dress to be like; she wanted something modern, bold, couture, and if at all possible, with a detachable overskirt. The only stipulation for this modern bride, however, was that her faith and culture required her to stick to certain traits for modesty, and for her that meant that long sleeves and a higher neckline were mandatory.

Tricky, but definitely not our first rodeo!

After shopping with us on two different occasions we found a dress which checked off all the things she wanted in her dress, as Butterfly by Crystal Design is a figure-hugging, beaded lace beauty with a large, dramatic detachable overskirt. But Butterfly would never get Mom's seal of approval with her sheer, illusion neckline, unlined bodice, and short cap sleeves.

We discussed the modifications we could do to the dress with them both; apart from ordering Butterfly in ivory, we confirmed that we could absolutely build up the neckline, add long sleeves, and line the dress fully to get rid of any sheer portions along the bodice. With Mom's objections neutralized she gave her support and Jasmin was able to say "yes!" to her dream, custom gown.

Fast-forward a few months and we began work on her new ivory Butterfly sample. Our experienced seamstress, Ana, began by trying the dress on Jasmin and discussing exactly what Jasmin wanted her dress to look like in the end, down to the placement of the appliques individually. Below, you'll be able to see how we transformed her dress from this off-the-shoulder illusion gown…
Into her perfect long-sleeve, modest-neckline ivory beauty that she absolutely ROCKED on her wedding day!
The first step was to deconstruct the original illusion neckline and begin laying down the base for her sleeves, which was a matching ivory fabric with a little stretch so she would be comfortable and able to move her arms without restrictions. Once the foundation was built for both the neckline, the back, and both sleeves it was just a matter of applying the lace and tweaking the fit until it was absolutely perfectly tailored to Jasmin.
The results were seamless and amazing! You would never know that this dress never came with this sleeves from the designer, and that's exactly what Jasmin wanted and what we were able to achieve.
Compare for a second the amazing difference between our original cappuccino Butterfly sample from Crystal Design on the left and her custom ivory gown on the right!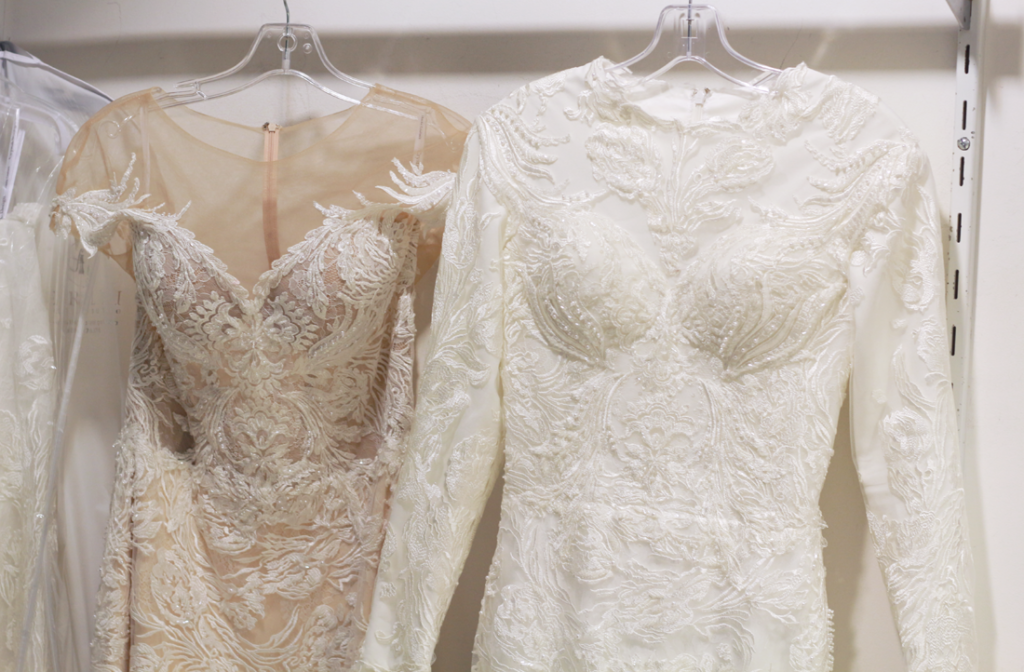 Curious about what we can build custom for you as well? Don't hesitate to send us an email or schedule an appointment with us today to go over your vision so that we can make a great dress your absolute dream dress!